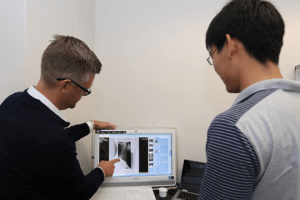 Chiropractors will often use X-ray if clinically indicated.  It is generally our first testing we refer to when looking for pathology or to gain further understanding of your presenting complaint or condition.  Depending on the results, sometimes further testing is required and this may take the form of either a CT or MRI scan.
X-rays are often used to show distortions or changes in posture, degeneration or arthritic changes, congenital variations and pathology.
These days, X-rays are generally digital and are a much lower dose of radiation.
X-rays are not recommended while pregnant.  If you are pregnant, please let our team know before booking an X-ray.
We provide state of the art digital Xray facilities at our Sydney City location.  Digital X-ray provides low dose radiation and takes approximately 5 minutes to complete a full spine series.  Your X-rays are made available to you via email for future reference.
Accreditations & Memberships