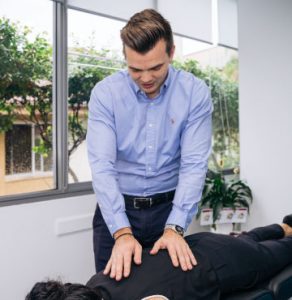 Once you've scheduled your first visit with us, you will be emailed your Initial consultation paperwork. Your Chiropractic care at CHIRO H3 begins with a through history and examination, followed by a Core Score and if necessary, a Full spine X-ray. This visit will take up to 45 minutes.
Your Chiropractor will spend time analyzing and reviewing the results of your consultation and examination. At your 2nd visit or Report of Findings, your Chiropractor will explain your results, confirm whether we can help you and make specific recommendations.
These recommendations may take the form of a schedule of specific Chiropractic adjustments, as well as exercises and postural work. Your recommendations are specifically designed for you based on your goals and our objective findings during your testing.
Chiropractic care works best when our clients take an active role in their health and healing. It is essential that we address the bad habits of posture and lifestyle that contributed to your presentation, as well as the exercise to assist in a longer term correction.
Our best recommendations will involve what you need to do to get rid of the pain as well as corrective solutions for a long term strategy and resolution.
Core Score
At Chiro H3 we use the Insight Subluxation Station as a diagnostic tool to measure and monitor your progress through care.  The Core Score is the result of the Insight Subluxation testing and provides us with an objective measure of your Spine and Nervous System function.  We use this testing on your initial visit and then monitor periodically to show changes and improvement as your progress through care.on for details.
| Service | Fees |
| --- | --- |
| New Client Initial Consultation offer | $60 |
| Core Score | $50 |
| Standard Consultation | $65-$75 |
Most of our clients chose to benefit from our Easy-pay system, that way you save both time and money.  With Easy-pay your standard consultations can be as little as $65.  Ask your Chiropractor or at reception for details.
Accreditations & Memberships