Did you know?
The two most common workplace injuries/complaints are Musculoskeletal Disease and Stress (total of 90%)
ABSENTEEISM (time off work) costs the Australian economy $24 billion a year
PRESENTEEISM (underperforming due to illness/injury) costs $35 billion a year
Healthy employees are 3 times more productive than unhealthy employees
At Chiro H3 we have a strong passion to empower and inspire people in the workplace to be healthier and happier employees. We believe that corporate health goes both ways... not only is it the employer's responsibility to create a work environment that supports its employees, but it is also the employee's responsibility to take charge of their health and be pro-active in injury prevention as well as managing health challenges as soon as they arise.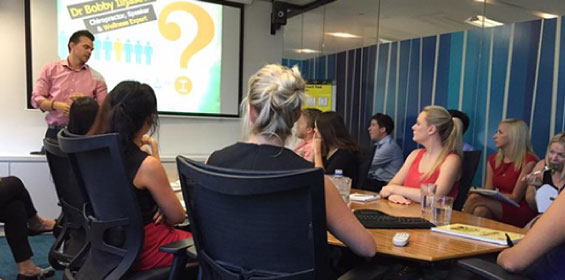 Corporate Workshops
Either quick and efficient "lunch and learns" to the more elaborate and content-rich seminars - We can tailor workshops specific to your workplace needs. Topics include
Stress Less, Live More
Sitting is the new smoking
Posture is Key
Easy Hacks to Keep Moving in the Workplace
Plus much more
Corporate Talks
We provide seminars and presentations to the Corporate environment on Health and Wellness. Our trained speaker, Dr Bobby is both informative and engaging and presents on a variety of topics, including; "Stay Fit while you Sit" and "Resilience in the Workplace".
We have presented for companies such as Macquarie Bank, St George Bank, Aurecon, Hudson Recruitment, North Shore BMW, and BlueFin Resources to name a few. If you would like to know more, please fill out the form below
Community Talks
Every year we run our Women's Health Night and Wellness@Work Expo's. These are run through the week and feature a selection of local health businesses, free talks, give-aways, prize drawers and nibbles. To go onto our mailing list for our next event, email us at sydney@chiroh3.com.au
Click to see how informative, fun & engaging our corporate dinner workshops are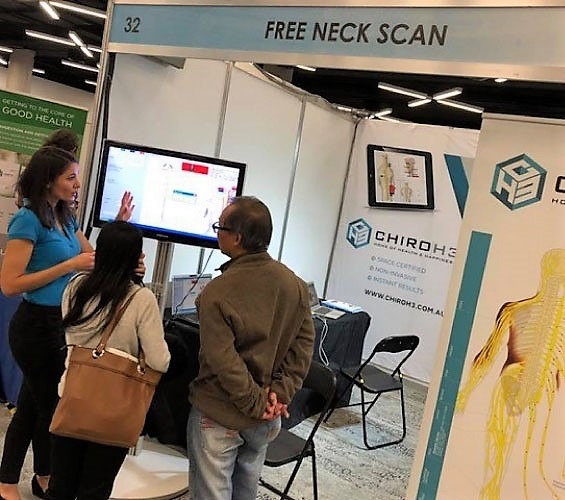 Dinner Workshops
We run monthly dinner workshops at Barrel Bar and Dining, Cremorne. This is a great opportunity for our existing clients to bring a friend, family member or colleague to hear a presentation from Dr Bobby about health and wellness while enjoying a dinner on us! Dates for our upcoming dinner workshops are available by calling Cremorne on 9904 0101.
Screenings
We regularly perform screenings at Expo's, Shopping Centres and Workplaces. Each screening takes 2-5 minutes during which time we perform a thermal neck scan. This highlights possible areas of stress on the spine. We explain the results and make recommendations, based on our findings. If you are interested in having us screen at your workplace, please fill out the form below.
Better Results Faster Workshop
Every fortnight we run this very important introductory workshop for new clients. During this ½ workshop you will find out what governs health, the role of the spine and nervous system and how to get the best results with Chiropractic care. We recommend you bring anyone who is going to support you with your goals. Dates for our next Workshop are available by calling Cremorne on 9904 0101.
Corporate Health Enquiry Form
Accreditations & Memberships