New Patients
CHIROPRACTIC CARE FOR ALL
At CHIRO H3 we are committed to making Chiropractic care more accessible to everyone. For this reason,
we have reduced the fee for our Initial Consultation and Examination to help "ease the pain" of your first appointment.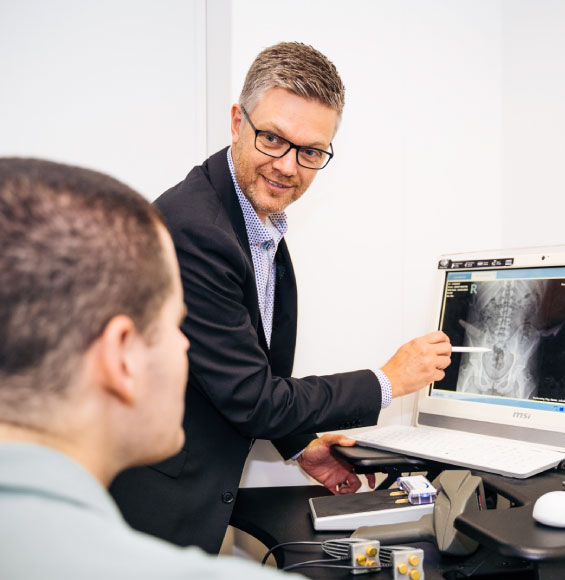 New Patient Introductory Offer - $60
Includes
Comprehensive Initial consultation and Examination
State of the art core score testing, including Thermal scan, sEMG muscle testing and Heart rate variability testing
Full spine x-rays if required and clinically relevant
2nd visit detailed explanation of results and treatment plan
Conditions:
Only valid for new clients to CHIRO H3
Need a valid Medicare card for X-rays taken at Cremorne
X-rays taken at our Sydney City clinic will be billed under health fund if applicable
Not to be used in conjunction with any other offer
Not transferable
We would like to take this opportunity to thank you for choosing CHIRO H3 . Hopefully you are here because you heard of our reputation of being different. We are different in a good way. Our office is known for being a friendly, fun and relaxed place where people come to get healthy. Our staff are knowledgable, caring and passionate. They will do their utmost to make your experience a memorable one.
What To Expect On Your First Visit
On your first visit, your chiropractor will discuss with you in detail your health history, current health situation and any specific goals or objectives you have. The Chiropractor will perform an examination including spinal, orthopaedic and neurological tests to determine where your symptoms are coming from and the underlying cause of your problem. It will then be determined if you require any additional testing, including our comprehensive core score testing, X-rays or more detailed imaging. This appointment generally takes the form of fact finding in order to work out if Chiropractic care is appropriate for you.
You should allow 30 – 45 minutes for your first visit.
Private Health Insurance
Most health funds give rebates for Chiropractic care. Our Chiropractors are accepted by all health funds.
Does getting adjusted hurt?
No, getting adjusted should not hurt. More often than not you will actually feel an instant release of pressure. Any discomfort after an adjustment would be similar to what you might feel in your muscles after a workout at the gym.
What is the clicking or cracking sound?
The noise that you may hear when you get adjusted is a suction sound as nitrogen gas within the joint escapes.  The adjustment does not aim to release the gas, it is merely a side effect of little to no clinical consequence.  Some adjustments don't make any noise at all.  It is good to know that the click you may hear is not the bone itself.
When we look at Adjustments against other Medical Interventions they are incredibly safe.  Chiropractors are fortunate enough to have one of the lowest malpractice insurance premiums because of low numbers of  litigations against the profession.  However, there are always risks associated with any procedure.  We minimise the risk through our thorough history, examination and testing as well as using specific gentle techniques.  We will always discuss any risks with you before proceeding with care.  No two cases are the same, therefore we taylor our approach to make sure we deliver to best Chiropractic care that is safe and effective.
Once you start chiropractic care, do you have to keep going back?
You always get to decide whether you want to continue with the benefits of Chiropractic care.  Many people chose to continue to get adjusted as they enjoy the ongoing benefits of a living a pain free life, as well as a healthy spine and nervous system.  We will always give you our best advice with your care, based on your goals and what your specific objective results show.
Are chiropractors university trained?
Yes Chiropractors in Australia complete a minimum 5 year University qualification.  They are registered through AHPRA, the Australian Health Practitioner Regulation Authority and governed by their Registration Board.  They complete studies in Anatomy, Physiology, Neurology, Orthopaedics, Radiology, Pathology and Chiropractic Diagnosis and Skills.  Our Chiropractors also complete compulsory continuing education.
Can you claim chiropractic care at chiro h3 on my healthfund?
Yes ,we provide Chiropractic that can be claimed on every health fund in Australia as long as you have extra's cover.
Do I have to have x-rays?
You will be referred for X-rays if clinically indicated.  There are certain conditions that will preclude you from having X-rays such as Pregnancy.  The risks and benefits of X-rays will always be discussed with you.
What is the difference between chiropractic and physiotherapy?
Physiotherapists are generally hospital trained and specialise in post-surgical rehabilitation as well as Sports Injuries.  When it comes to the spine they are generally focussed on muscles and strength.  Chiropractors on the other hand are interested in the spine and nervous system and are generally trained in private practice.  Chiropractors use spinal adjustments to correct the spine as well as strength and postural work.
Do I need a referral to come to chiro h3?
No you definitely don't need a referral.  Chiropractic is a primary healthcare profession, which means you can attend without the need to see your Doctor.
Accreditations & Memberships