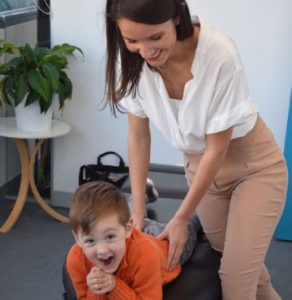 There are many reasons why parents may bring their children to be assessed by one our of Chiropractors. Sometimes it relates to a specific fall or injury and other times it relates to a sense, that they are just not moving properly or their posture is not right.
You can be rest assured that our Chiropractors will assess your child thoroughly and only recommend treatment that is appropriate and safe.
Fortunately, children generally respond well to Chiropractic care if clinically indicated and you will often see results quickly. As children grow, they are often subjected to heavy school bags and sports. Like getting their teeth checked at the dentist, a Chiropractic assessment can be useful.
We have a variety of treatment techniques designed specifically to look after the delicate and growing spine of Children. Our team will discuss with you the most appropriate treatment before proceeding.
Core Score
At Chiro H3 we use the Insight Subluxation Station as a diagnostic tool to measure and monitor your progress through care.  The Core Score is the result of the Insight Subluxation testing and provides us with an objective measure of your Spine and Nervous System function.  We use this testing on your initial visit and then monitor periodically to show changes and improvement as your progress through care.on for details.
Most of our clients chose to benefit from our Easy-pay system, that way you save both time and money.  With Easy-pay your standard consultations can be as little as $65.  Ask your Chiropractor or at reception for details.
Accreditations & Memberships